Stretched affordability continues to hold back price growth in many of the UK's major cities, while Liverpool sees the biggest gains.
House price growth across the UK's major cities continued to slow in May as affordability remained stretched across much of the country.
The average cost of a home climbed by just 1.8% in the year to the end of May, with the rate of growth particularly weak across southern regions, according to the latest Zoopla UK Cities House Price Index.
But there continued to be significant regional variation, with the annual price changes ranging from gains of 5% in Liverpool to falls of 4% in Aberdeen.
Zoopla attributed the range to the evolving affordability dynamics in the different cities, as well as the impact of successive tax changes since 2015.
Richard Donnell, research and insight director at Zoopla, said: "Together, these have impacted buying power, and demand for housing, hitting high-priced cities more than others."
Where is the market strongest and weakest?
House price growth continues to be strongest in cities where affordability is less stretched.
Liverpool saw the strongest growth of 5% during the past year, followed by Belfast at 4.6% and Nottingham and Leicester, both at 4.5%.
At the other end of the spectrum, property values in Aberdeen are now 4.2% lower than they were in May last year, while prices have slipped by 0.5% in Cambridge and 0.4% in London.
Growth was also subdued in Oxford and Portsmouth, with property prices just 0.5% higher year-on-year, while in Southampton they rose by only 0.8%.
Last month, Glasgow posted the strongest gains at 5.1% over the previous 12 months.
What about first-time buyers?
The impact of house price gains on affordability is illustrated by the fact that the typical gross income first-time buyers need to purchase a property in a city has increased by £4,500, or 9%, during the past three years to £54,400.
There remain pockets of affordability, however, with first-time buyers in Glasgow and leading Liverpool requiring an average gross salary of £26,000, compared with £84,000 for people stepping on the property ladder in London.
The income needed to buy a home has fallen by 5% across the three most expensive cities of London, Cambridge and Oxford since 2016 due to a combination lower house prices and cheaper mortgage rates.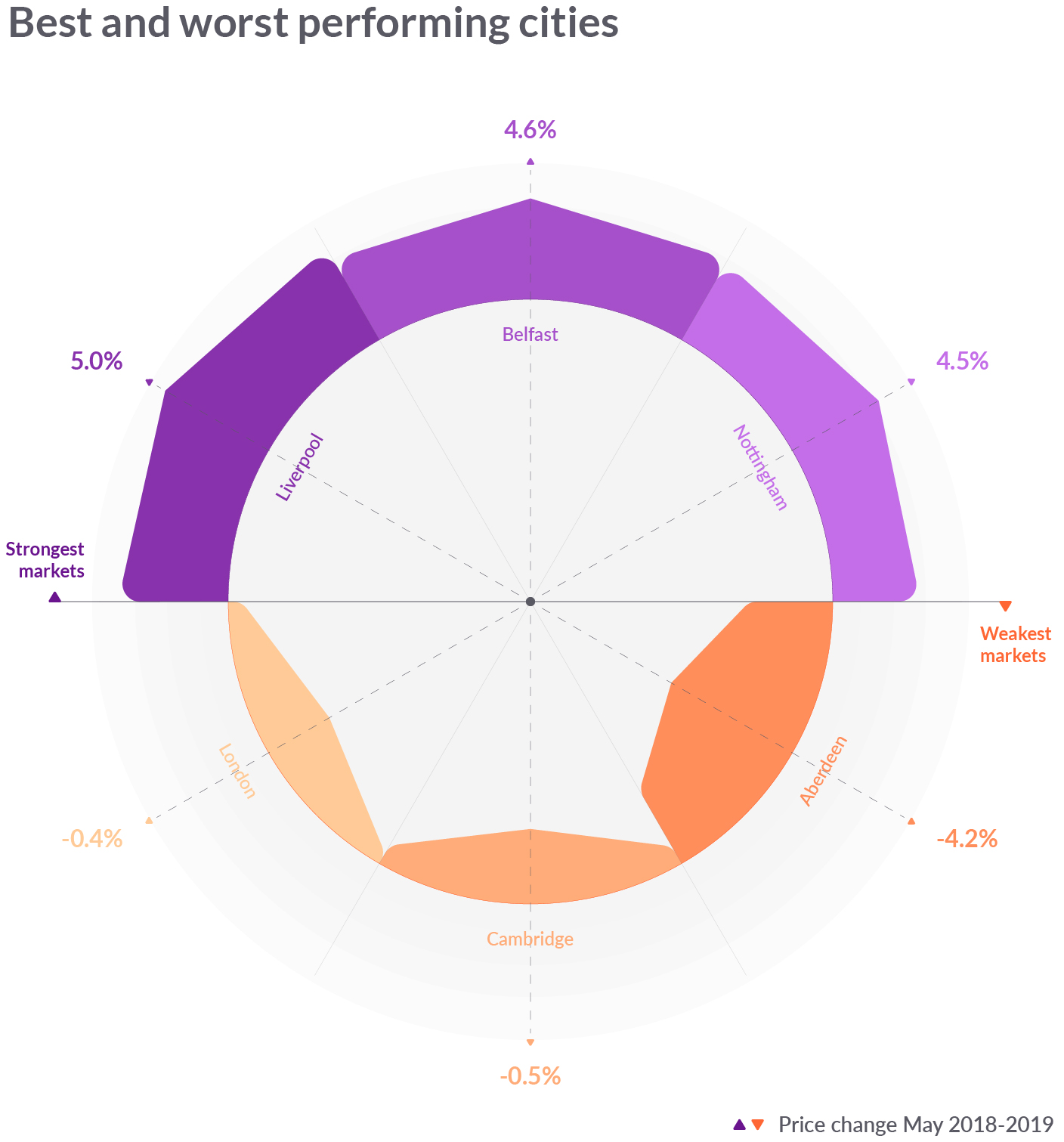 What's the outlook for the market?
The high income needed to purchase a property is limiting the number of buyers in the market, leading to weaker demand, subdued transactions and sluggish price growth, or even price falls.
Zoopla said the current fundamentals of house price affordability and mortgage regulation suggest house price inflation will continue to slow across southern England.
But affordability pressures are less acute in cities with lower property prices, leading to above average growth in these places.
This trend is expected to continue for the rest of 2019, with house price gains in cheaper cities continuing to outstrip earnings growth.
You might also be interested in...
Confident homeowners predict 4.8% price growth
The most affordable places for first-time buyers in Liverpool
Using Help to Buy? Make these 5 checks first
What other insight would you like from the Zoopla Cities House Price Index? Let us know in the comments, below...